When women gather in intentional spaces, magic a l w a y s happens.
It's in our DNA, we've been doing this for centuries. Our ancestors knew that gathering under the full moon/new moon, working with the elements and being surrounded by fellow women was a direct gateway to empowerment, liberation, healing and transformation. 
As women, we need each other to FULLY blossom and thrive.
Sister, do YOU desire too...
+ Attract and gather soul sisters that then turn into lifelong friendships.
+ Have a community of like minded souls that you can share your medicine with on a consistent basis.
+ Create the most beautiful and magical containers for women to be witnessed, seen and heard.
+ Provide a safe space for women to fully be themselves.
+ Become a stronger community leader in your area.
+ Create more opportunities for women to get to know you and your work.
Have you always wanted to host a women's circle but perhaps you didn't find the motivation, courage, experience or structure on how to do it?
If the answer to any of these is yes, I've created this training for you.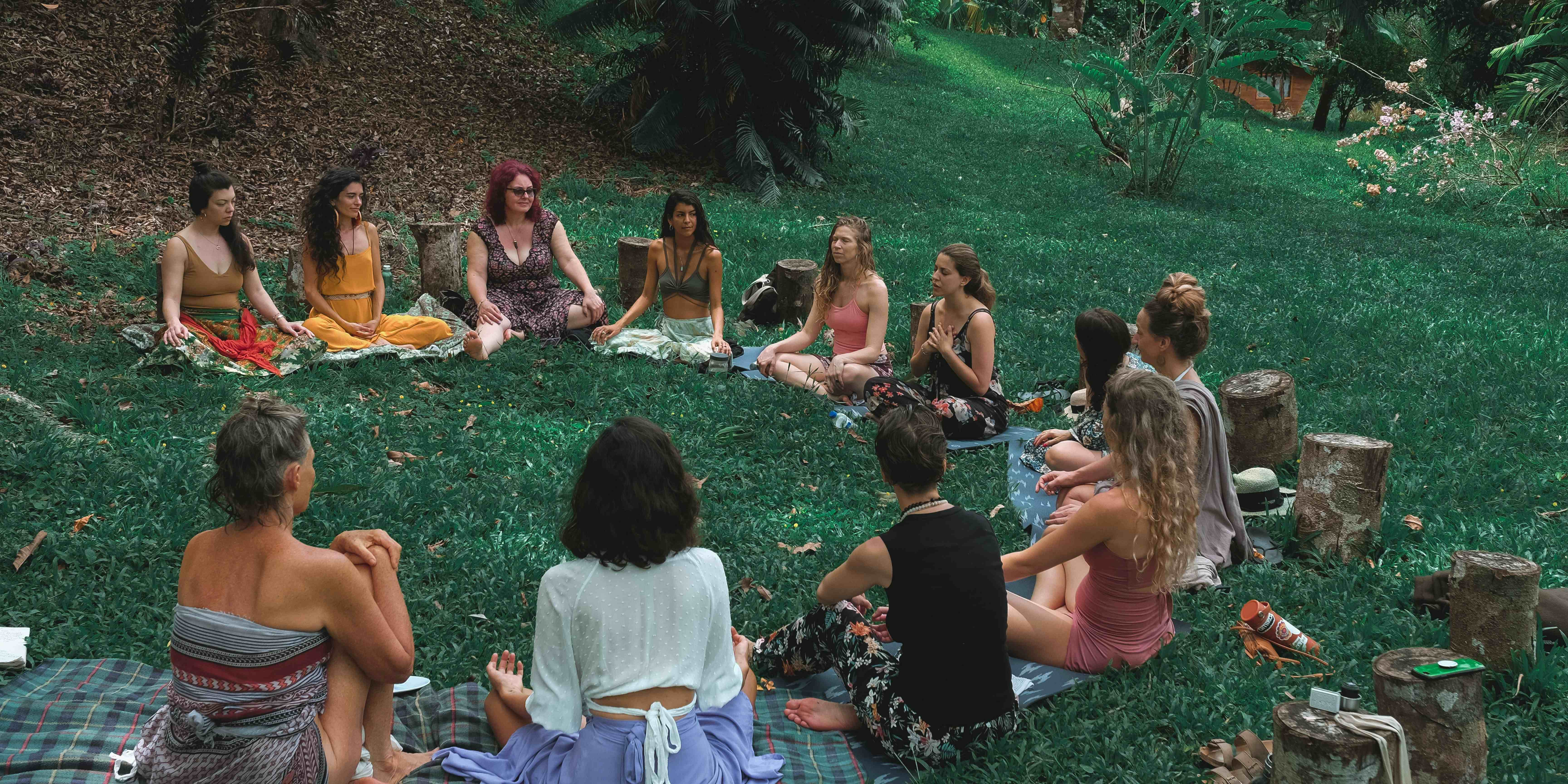 THE MAGIC INSIDE…
+ 2 hour recorded training  (Lifetime access)
+ Workbook with circle structure (can be applied in person or online)
BONUS
+ Altar Creation Guidebook
+ Ground | Clear | Connect Guided Meditation
A SNEAK PEAK INTO WHAT YOU'LL LEARN…
+ Identify YOUR OWN magic + medicine
+ How to boost your confidence as a space holder
+ Structure: leading a circle from beginning to end
+ Setting the space, altar creation, creating a safe space through establishing boundaries
+ Pricing
+ Multidimensional Branding
+ Marketing: how to promote your circle
+ Creating an ongoing active community
MY INSPIRATION...
The biggest breakthroughs I've ever experienced in my life have been in women's circles. Sisterhood has been one of my main pillars in my personal & spiritual development, I remember 3 years ago my soul so deeply craved sisterhood, I've attracted some of my most powerful soul sisters through hosting women's circles. I've also attracted soul aligned clients and women who have decided to invest in my offerings.
Above all, the transformation I've undergone in intentional spaces surrounded by fellow women has been truly life changing. What I experience in just a few hours would've taken me weeks/even months if I were to do this work on my own. Every single time I gather in a space with women I'm reminded of our inherent power as the Goddess, Creatix, Sorceress, Lover, Daughter, and Mother. When women support each other we literally become fucking unstoppable.
The Divine Feminine Gaia Consciousness is awakening, she is rising.
You've felt Her.
She's called you.
It's time. Gather your sisters and pray, dance and sing. Open your hearts to each other.
For that is the ultimate liberation and where our current evolution lies.
You already have what it takes to be a powerful space holder.
Your guide, ally & Divine mirror...
Spiritual + Feminine Leadership Mentor
Areli Luz
An eternal student of life. World traveller, Mystic, Medicine Woman and devotee to the Highest Light. She has been on a journey of self-realization for over 7 years. She's in her highest expression when she's learning how to access our full potential as Divine beings in a human body, to then share it with others. She initiate leaders into their service to the Earth, She invites women to step fully into their power, she activates the fire that lives within to create the most epic & magical life. Her greatest teacher is Mother Earth. She works immensely with the medicine of nature and the Spirit realms. Simply a Divine mirror, here to help you remember.
Email